It's finally December, and I am a tad ashamed to say that I got a bit excited and wrote this at the beginning of November…
But here we are, a list of Christmas Baubles that are minimalist friendly for those style-conscious people out there.
Each of my favourite contemporary baubles are, of course, John Lewis – the king of Christmas. In my opinion, no one does it better. These elegant, yet affordable, decorations are so versatile and will suit any contemporary home. I was actually overwhelmed by how affordable these pretty things are, and because they each have such an impact, you only need a few to adorn your tree. If minimal chic is your thing, John Lewis is your guy.
John Lewis Snowdrift Feather in Glass Bauble (£3.00/each)
John Lewis Snowdrift Snowcapped Glitter Bauble (£3.50/each)
John Lewis Different Perspective Green Tree In Glass Bauble (£4.50/each)
John Lewis Snowdrift Spun Glass Bauble (£3.50/each)
Forget the usual spherical shape, think outside the box.
Here are some of my favourite uniquely and oddly shaped decorations.
John Lewis Snowdrift Glass Translucent Snow Finial Bauble (£4.00/each)
John Lewis Boutique Iron Gem Geo Drop (£3.00/each)
Next Glass Droplets (£6.00/set of 4)
John Lewis Enchantment Glass Finial (£5.00/each)
John Lewis Boutique Glass Mercurised Fan Bauble (£3.00/each)
M&S Clear Glass Twist (£4.00/each)
John Lewis Enchantment Glitter Hourglass Bauble (£4.00/each)
John Lewis Enchantment Embellished Finial (£6.00/each)
I am rather partial to an animal themed/shaped Christmas decoration, and the high street is saturated with them! Turns out everyone's a sucker for a cutesy animal bauble. Sadly, the vast majority are fluffy, coloured, and a bit naff.
Here are the ones that made the cut.
John Lewis Snowdrift Acrylic Glitter Stag (£4.00/each)
Paperchase Resin gold brushed antler decoration (£6.50/each)
M&S Clear Polar Bear Tree Decoration (£2.00/each)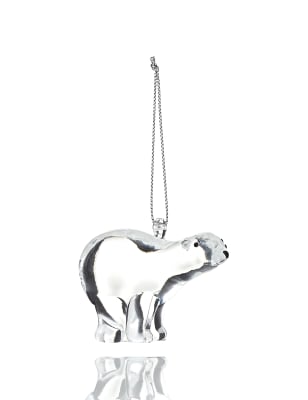 Primark Feather Hanging Tree Decoration (£1.50/each)
M&S Silver Tie Penguin Globe Decoration (£5.00/each)
Monsoon Hummingbird Hanging Decoration (£7.00/each)
Don't get me wrong, a splash of colour here and there adds that little bit of festive cheer. Don't feel like you need to stick to metallics or red/green. Rich jewel tones add that extra bit of luxe this holiday.
Matalan Spun Glass Drop Bauble (£3.00/each)
M&S Bauble in a Bauble (£6.00/each)
Matalan Star Sequin Filled Gold Bauble (£3.00/each)
M&S Crackle Glass Tree Decoration in Green Mix (£4.00/each)
The variety of unique or novelty styled Christmas tree decorations are surprisingly my favourite. I think that a tree with all contemporary/classic baubles lacks character. I think it's all too tempting to have a generically decorated Christmas tree.
Why not roughen things up with an industrial metal decoration, or two? If that's not your thing, how about a nod to Captain Jack with a message in a bottle? The options are endless, there's something out there to help everyone's personality shine through this Christmas.
Wilko Industrial Wire Star (£1.50/each)
John Lewis Enchantment Message In A Bottle Bauble (£3.00/each)
John Lewis Midwinter Feathers In Glass Bottle (£4.00/each)
Wilko Industrial Copper Mesh Ball (£1.50/each)
H&M Stone Decoration in Light Pink & Gold (£6.99/each)
Wilko Merry & Bright Metal Jingle Bells (£1.50/each)
Matalan have taken DIY and made it chic this Christmas with their Christmas Tree Glass Hollow Decoration (£15.00/each). It may seem a bit pricey, but you have complete creative control over this one. Fill it, paint it, cover it with glitter – the choice is yours!
Whilst excitedly researching various christmas decoration outlets, I initially browsed through the obvious John Lewis, Next, etc. However, I thought I'd add that my favourite collection is in fact the Wilko Industrial collection. The majority of it is in unique shapes and are metal/stone/wood based. Contemporary, yet raw.
I hope this post has shown that christmas doesn't have to be full of traditional, dated decorations, happy contemporary christmas decorating everyone!
What have you got planned for your Christmas tree this year?
Follow