Autumn Homeware Wishlist
I came across this candle in Boots a few weeks ago and was won over by the sleek, classic packaging that the Yankee Candles lack. Obvz, it went to the top of my Autumn Homeware Wishlist. This candle not only looks like a "grown up" candle, but it smells like it too. The scent is really sophisticated, and is a blend of amber, vetiver and musk. It is quite a woody, deep smell and I can imagine it lingering really well in a room.
When I did some online research about the brand I realised that this candle has a key feature that makes it stand out from all the other candles of it's genre. It crackles when it burns. I mean it actually crackles like a fire. I can imagine sitting back with a cup of tea and a book on a rainy Sunday afternoon, with this candle crackling in the background.
Muji 2 Drawers Wide Acrylic Box (£10.95/each)

I've been lusting after this for absolutely ages now, not only because I love organisation, but this is a perfect way of displaying you make up without really displaying it. It's also great to be able to clearly see where everything is without having to rummage around for 10 minutes to find a particular lipstick. I will definitely be getting a few of these sometime soon.
WoodWick Candle in Fireside (£16.00/each)
H&M Metal Tray in Bronze (£7.99/each) and Metal Storage Basket (£12.99/each)
I've been looking at these online ever since H&M released their AW15 Homeware Collection, however I don't want to pay up the money for postage and I'm rarely ever in the house during delivery hours. Luckily there's a brand new store opening up in Cardiff St. Davids 2 this month. Fingers crossed they stock these babies.
Next Tonal Faux Fur Throw (£60.00/each)
I already have a fur blanket, so this really shouldn't be on the list. But I've now seen it in real life and it's such good quality. I probably wont end up buying this because it is very expensive for a throw in my opinion, but it deserves a mention nonetheless.
Yankee Candle Platinum Fade Wax Melt Warmer (£14.99/each)
I've been struggling to find a really nice tealight oil burner for wax melts, and the only answer is Yankee Candle. This burner fits the minimalistic trend, yet also features a really lovely monotone abstract pattern. This means that I will really mesh well with all my other decorative items.
Urban Outfitters Copper Skull Money Bank (£15/each)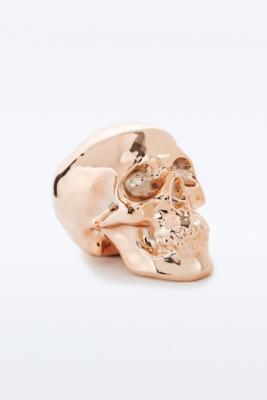 My boyfriend and I are currently keeping our spare change in a little gift bag, in the bottom of the draw. So a money box is very much needed in our home. This one has a gothic vibe, yet features the coveted bronze/rose gold finish that is very popular in homeware right now.
Urban Outfitters Oriental Woods Candle (£20.00/each)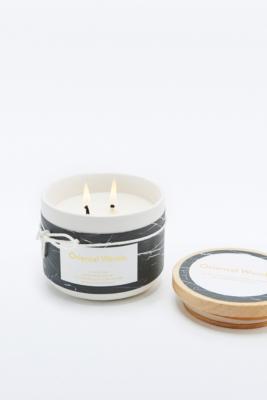 I was wandering around Urban Outfitters a few days ago, casually smelling all the candles whilst not expecting anything mind blowing. And then I came across this little gem. I'm not quite sure how to describe the smell other than the description on the packaging. It does really smell like I imagine an Oriental Wood's to smell like. It's fresh and crisp, yet with a musky edge. Sadly, it a whopping £20.00 and is not very big at all, so I won't be able to invest in this one.